Asian Dragon Magazine is a prestige business and lifestyle publication that caters to the respected elite in our society today. Presenting the efforts and achievements of the Filipino-Chinese community and also the mainstream business community in the development of our nation.
Asian Dragon also features in-depth profiles of the community's movers and shakers, their character, their ideas and legacies, and entrepreneurial genius. As substance goes hand-in-hand with style, balancing out the business and political sections, are the latest lifestyle trends in fashion, beauty, luxury and arts, gadgets and automotives, dining and entertaining, recreational activities with destinations of choice and favourite hangouts.
Target Market
If there was such a thing as ideal demographics, the Filipino-Chinese and mainstream business communities would fit the profile. A market segment showcasing all the most desirable traits of a target market: high disposable income, upward social mobility, global sophistication, high scholastic achievement, and highly competitive, with a keen awareness of economic, social, and political trends as well as having a legendary work ethic. In other words, the perfect target market for your brand: a market that works hard, plays hard, and knows what it wants, and wants the best.
What's Inside Asian Dragon?
Business 40%
Business profiles and features,
business and market trends, events

Lifestyle 50%
Fashion, beauty, health and wellness, shopping, food, travel, cars, interiors, events, and entertaining

Chinese Culture 10%
Incorporating Chinese Proverbs, Feng Shui


Magazine Sections
| | | |
| --- | --- | --- |
| | Gift Guide | - Asian Dragon's lust-inspiring, must-have list. |
| | Events | - The buzz on who, what, and why. |
| | Profiles | - A look at successful Chinoys in their fields of expertise. |
| | Business | - Valuable business insights, advise and analysis from industry experts and professionals. |
| | Cars | - Car reviews for the car buff. |
| | Wellness | - Healthy food, scientific breaktroughs in health and medicine, sports and exercise to keep you |
| | | in shape. |
| | Beauty | - The latest cosmetic, skin care, hair and make-up, beauty trends, and products. |
| | Fashion | - The season's look presented by real people and well-known fashion personalities. |
| | Arts & Culture | - Featuring masterpieces of well-known artists with unique style. |
| | Jewelry | - Features everything you need to know about fine jewelry and showcasing best creations of |
| | | top jewelers. |
| | Feng Shui | - Feng Shui tips and advise from renowned feng shui masters. |
| | Interiors | - A look into the architectural and interior choices of interesting personalities. |
| | Entertaining | - Tips and recipes for entertaining guests at home. |
| | Food | - Asian Dragon's dining discoveries. Also includes a "how to" section on cocktails. |
| | Travel | - Where to go and what to expect on your next vacation. |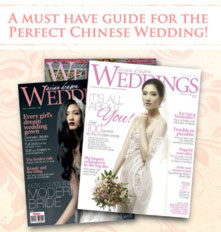 Asian Dragon Weddings
A comprehensive guide to planning a Chinese wedding, Asian Dragon Weddings covers all aspects, from choosing an auspicious date to the honeymoon. The annual magazine combines articles and features that include everything the couple needs to know from the traditional practices and rituals associated with Chinese tinghun(engagement) and weddings and the modern day practices.
About the Publisher
| | |
| --- | --- |
| | Foresight Books Publishing is known for producing quality books, supplementary reading materials, and trade books. It has also published highly regarded biographies of such prominent Philippine personalities as the former governor of Ilocos Sur, Luis "Chavit" Singson, entitled 'The Nine Lives of Luis "Chavit" Singson.' |
Back to Top